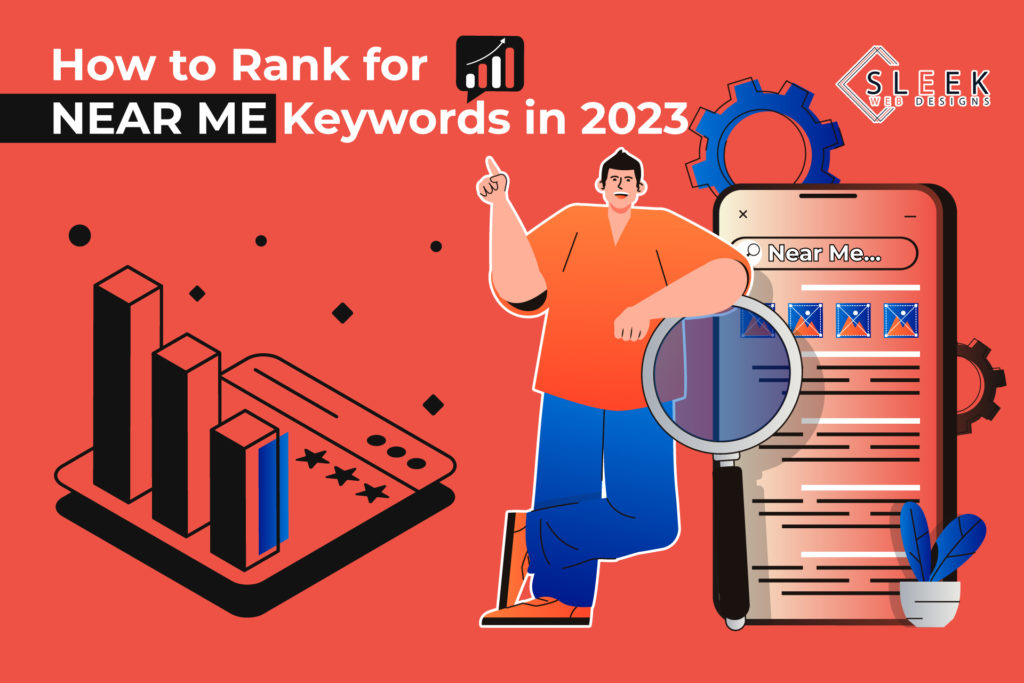 Businesses that make physical contact with clients need to know how to rank for "near me" keywords. How else will people looking for similar products and services in their locality find them? 
Such online searches aim to find things around a particular place, usually the user's current location.
You want your business to appear as a top option on search engines in your locality whenever a related keyword is used in the search bar.
The Rise of "Near Me" Searches
Internet users started using general searches for things they needed. Google, the search engine giant, gradually adapted its responses. With time, "near me" searches have moved from providing results with the words "near me" in the title or content to results that are physically close to the person searching.
These searches have evolved even further to include "open now near me," and Google reports a more than 400% increase year on year (YoY). Other variations include "to buy" or "can I buy," which shows intent. Using Search Engine Optimization (SEO), a little goes a long way in getting noticed.
Top 'Near Me' Query Categories
What things do people search for the most around them?
Food
Entertainment
Banking
Apparel (clothes, shoes, and accessories)
Personal care products
Think of the number of times people order food online or look for restaurants and places to hang out. Remember the convenience buying online provides when you don't want the embarrassment of buying certain products in person?
People using near me keywords are ready to engage and buy in these categories.
How Do You Optimize For "Near Me" Searches?
People conducting "near me" searches are ready to engage and buy. As a business, aim to be ready for them and make yourself an appealing option for first-time users. It'll allow you to encounter potential customers and convert them into repeat customers.
How do you make this happen?
1. List your business on Google My Business and optimize it.
Google allows businesses to add useful details on their Google Business Profile (formerly Google My Business). Include your official business name, exact business address, business category, business hours, working phone number, website, and special offerings like free Wifi and free delivery. This process is free and worth the trouble.
Catchy photos always get people's attention. Capitalize on that by adding beautiful exterior photos of your premises and a cover photo showing clients what to expect. Tactfully use your images to make your clients desire your products and services because of the feelings they evoke.
Seasons change even in business, and you may add new products or make some changes. Ensure you always update your business profile as soon as changes happen. Clients expect to find you open at 9:02 am if you say your business opens at 9 am.
While you're there, ask your regulars to leave you reviews. Many people choose service providers or products based on online reviews so ensure your reviews are visible on all platforms. Respond to those reviews, whether positive or negative. As a business owner, you want prospective clients to see you as responsive and courteous. It's also a good platform to correct misinformation about your business.
2. Create a blog and acquire local links.
A blog is perfect for showcasing your business. How? Create content focused on your locality and look for opportunities to earn local links, such as featuring local influencers. Offer to help whenever you can and participate in local activities.
Make your blog posts fun and evergreen. Have them communicate your personality as a business.
Also, consider listing on local business directories.
3. Use the right schema markup.
Schema markup is what search engines use to make sense of the content on your web pages. It's in the form of structured data, which organizes the content to give rich snippets. That's why some recipes appear in search results with the necessary details like cook time and ratings. You may also have encountered a "how-to" guide with a list of steps appearing in search results. It's all a result of schema.
Schema is especially useful because it presents your website at a deeper level to users. It improves user experience and could increase click-through rates.
4. Create pages for every location of your business, and optimize them.
If you have several locations, create a customized page for each of them on your website. Add any special features unique to these locations (both your business and locality) and speak to the local clientele in the language they understand best.
Optimize every page by adding the location's name to the URL and giving the location an H1 tag to tell Google that's the page's focus. All these little tweaks position the page as a top option on SERPs for "near me" searches.
5. Acquire backlinks with geographic anchor text.
Backlinks improve local rankings on Google only if they are relevant, authoritative, and have geographic anchor text.
If you're looking to rank for "hair salon" in New York, the text variants you should include must be as closely related to these two determinants as possible. "Hair salon in New York", "beauty salon in New York", "New York hair salon," "best hair salon in New York", and other such variations would work best.
6. Make your site mobile-friendly.
We generally live on mobile devices, whether phones or tablets. We want everything on the go and at the tip of our fingers. That goes for websites too.
Making your website mobile-friendly will ensure a seamless experience. Among the things to consider are the following:
Improve website speed. Loading time must reduce; otherwise, clients will go elsewhere
Ensure the site is responsive regardless of the device used
Make sure the site is easy to navigate
Ensure the search bar is visible and people can use it to find information on the site
Buttons should be a sensible size to make them easy to click on
Create a dedicated mobile site
"Near me" Searches in the Era of Smart Devices like Alexa and Google Home
Voice search is another aspect that has taken firm root with the advent of smart devices. 58% of people have used voice search to look for local businesses. Speech search accounts for 20% of mobile queries. The statistics on voice search are mindblowing, and any business person shouldn't ignore them. Optimizing your website and business for local search based on devices that use the big four voice assistants, namely Siri, Alexa, Cortana, and Google Assistant, is necessary because everyone loves a little convenience.
What do you need to look into for this to be effective?
The local voice search ecosystem
Which voice search option do people use more in your region? Knowing this will tell you where to focus your efforts.
The types of local voice search intent
Why are people searching? Are they looking for particular brands? Are they looking to gather information about products and services? Maybe they are looking to buy something.
Finding out where your prospective clients are on their buyer journey will help you curate your content to their different needs.
Optimize your Google Business Profile
You'll need this profile to be visible to users of Google Assistant. Google Assistant shows search results using Google.
Optimize your Bing Places listing
Since Cortana shows search results from Bing, claiming and optimizing your Bing Places page will work in your favor.
Optimize your Apple Maps business listing
Apple users receive business location options from Apple Maps listings. The number of consumers using Apple devices is also on the rise, and that would be a good customer segment to tap into.
Optimize your Yelp listing
Amazon Alexa gets data on businesses from Yelp. Claim your page and optimize it.
Best Practices to Rank for "Near Me" Searches
As you develop different SEO strategies to rank for "near me" search queries, there are some important aspects to consider.
Firstly, don't add "near me" to your business name. Google will focus on results that are physically close to the user based on Google Maps. Google may not penalize you, but it won't make you look good to users, so why do it at all?
Always keep your content relevant. Think of what your users would search for to find you and match them. Aim for a wider scope with your search optimization so that your business appears as an option for different keywords. Do you deliver? Does your business operate 24 hours? Are you a Chinese restaurant? Work this into your site for more visibility.
While some businesses have the advantage of offline prominence, you may not necessarily enjoy that. Work on your online prominence by providing as much information as possible about your business.
Your business reviews on different platforms get you further up the ladder, especially if they are positive. Negative reviews can still win you some numbers if you handle them wisely.
Since search engines will show businesses closest to the user, describe your location to a tee. Mention the landmarks and make it easy for people to get there. Not everyone can follow a map, you know!
Make it easy for people to call your establishment. Have a phone number that works and doesn't go unanswered.
Final Thoughts
Anybody looking for a business near them will likely be serious about buying. You want to appear on their radar and catch their attention when you do. It's a great way to increase foot traffic to your business and boost sales.
"Near me" searches will get you targeted customers, so focus your energies on optimizing for local searches. Why not get an SEO service to help boost your search rankings?