Being online isn't enough. Being found online is the difference maker.
Social Media
Marketing

Services
With an effective social strategy, you can grow your business, engage with your target audience, and get leads
For your e-commerce enterprise to grow, you need an effective social strategy. In this way, you can convey your brand messages in a digital social context with the goals of boosting interactions, engagement, and lead generation.
The social media arena contains occupied, rented, and hosted spaces. Third-party social networks like Twitter and Facebook own the rented spaces. The hosted spaces are your own shared blogs or community, while the occupied space is where you contribute your input and comments (on sites like Reddit).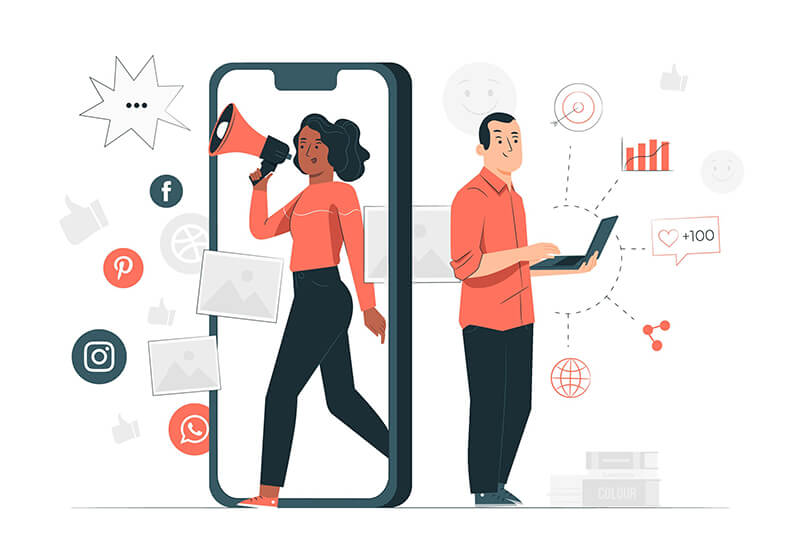 How We Help
With Social Media

Marketing
We provide the following social media marketing services in NYC:
Account/profile creation
Selecting a suitable social media platform for your business
Content creation
Content publishing
Research and analysis of both your audience and competition
social media advertising
First, we ask you to share your social media marketing goals that align with your brand.
Next, we use our tools to learn as much as possible about your audience. we even go ahead and create an audience persona that includes the target customer's age, geographical location, job title or industry, average income, interests, and so on.
We use social listening to analyze your competitors to know what they are doing well social media and the type of content they share.
If your brand is already on social media, we'll do a social media audit for you.
We'll collaborate with you to find out what's already working or not working, the networks your audience uses the most, who's most engaging with your content, and how your social media presence compares to the competition.
And finally, we'll create a powerful social media calendar.
We offer professional Email Marketing Service at affordable rates to help your business!