Updating your web copy is one of the most straightforward tasks ever, especially if your website gets decent traffic and leads. How often you update your web copy depends primarily on your business, internet marketing plan, and more factors. So when do see signs to update your website? Dig in and find out.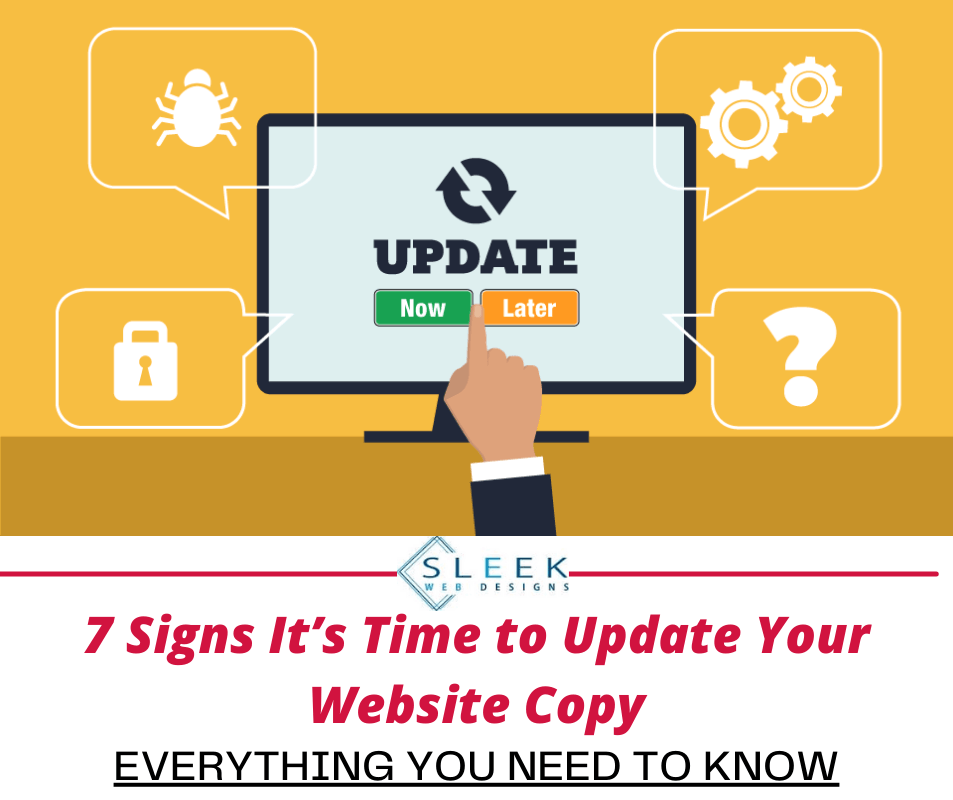 If the business was built when the company began, product lines have been changed, or services have been refined. One should reflect such changes online.
Immediate updating of the website should be part of the changes that affect the customers. Ensure that you regularly check your web copy to see if the necessary information in your business is correct. Ensure that you review your products and service the web copies every month to reflect the changes accurately and promoted. The eCommerce business may need daily or weekly updates.
If your competitors are outshining your content
Examine your website copy and compare it to the copy of your top competitors. Check if it presents the consumer's pain points more convincingly. Check if it is more empathetic to your customer needs and preference. Does it have a defined personality? Check if it makes their brand look more credible and trustworthy, if it is better than yours, and check if their service offerings go into great detail than yours.
The website copy is among the most significant aspects of your website. Its main objective is to emphasize the issues, present a solution, and showcase why you are the best provider to that solution.
If your competitor's website copy is doing a better job than yours, there are probably leaps and bounds ahead of you.
If your website copy suffers from prolonged load times
Nobody in this fast-paced world will want to spend precious time waiting for a slow website to load when they click over or press the back button in seconds. A one-second delay in page response can result in an even 7% decrease in conversations.

The slow page speed does not only affect the users' experience, but it can also impact your search engine ranking. The websites' performance impacts the search engine rankings developed under proprietary and undisclosed algorithms, incorporating significant factors including user experience, page speed, responsiveness, and many more website performance. Therefore, the slower the website copy loads, the less likely your potential consumers will locate it.
If the original website copy was initially written on a razor-thin budget
For startup businesses working on small budgets, website copy is usually among the sourced components for the bottom dollar. An explicit and exception word-rich content doesn't come cheaply; you need to pay more.
In reality, exceptional well-paid copywriters and brand strategists tend to spend more time coming up with various text variations, revising the content severally, and facing many rejections along the way.
Keep in mind that your website is the digital nucleus of your organization. Therefore, if you get a substantial budget than you initially had the first time, investing in a professional, stunning copy is something that will certainly pay you a lot.
Your web pages have a low rank in search results
Potential consumers rarely shift to the second page of their search results or choose a site from the bottom half of the first page. But many people may wonder how they can ensure that the website ranks on the first page of the search results. A well-designed website with quality copy will help you claim some real estate in the top search engine rankings.
Besides, the easier your website appears on the top of the search engine, the higher the number of people that will see your website; hence your traffic, sales, and leads will go up. To ensure that your site is for top-searches and branded keyword queries, it is essential to get a professional digital marketing agency with robust experience in both search engine optimization and web design for assistance.
The content is not updated
Keeping your web copy up to date is a significant way to enhance the trust between you as the website owner and your potential customers, as they can rely on you for useful information. If your web copy is full of old dates of the events, old blogs discussing irrelevant topics, you desperately need to update it.
The visitors to your website will wonder if there is still business instead of looking to you as the authority. Updating your website copy with relevant and fresh content will result in traffic and keep more new and satisfied visitors coming for more.
If your potential consumers are facing challenges to finding what they are looking for
Speed and efficiency are significant factors that define the website copy. Visitors will want to get what they are looking for quickly and with minimal simple steps. If the consumers don't find what they are looking for quickly or the process involves complex steps, they are likely to get bored and move on to your competitors.
The consumers should get what they are looking for with just a few clicks, then purchase and inquire about anything they require without outside assistance. If your site has higher traffic, but its conversations are low and decreasing over time, hiring a web design agency to update your website is the right time.
If the customer pain points have changed
When writing your web copy, selling the solutions is not a primary goal. Instead, you will need to sell your understanding of the issues. The better you are when demonstrating empathy with the customer's pain points, the easier it will be to sell the solution.
When using a website copy to present your pain points, the secret lies in the details. Let's assume you have some IT clients that provide cybersecurity services. Having your website copy that says, "cybersecurity is hard" will do nothing to emphasize the customers' issues.
To correctly address the relevant pain points, you should get down and dirty to understand what's going on in the current trends.
Depending on the industry you are currently specializing in, the finer the details that your clients face will evolve; and your website copy needs to reflect on them.
Having a custom website design and upgrade can do a lot for your business and other digital marketing strategies. Numerous digital marketing initiatives will fail or be ineffective if you don't have a robust online presence with your website.
Your website copy contains all of the sensitive information about your organization, including the products and services you offer, information about who you are, your blog, contact information, and much more. Make your brand look greater and stand out from the competition with a stunning website design!