ShareASale affiliates platform with the quickest growth rate, enabling collaborations that produce results. Our unique approaches and broad reach brought us…
In Chicago, Illinois, USA's River North area, ShareASale is an affiliate marketing network. In affiliate marketing, ShareASale provides services to both affiliates and merchants. Using ShareASale, affiliates may locate items to market and be paid for product recommendations.
What is Affiliate Marketing?
Promoting a service or product from a third party while making money from each transaction is known as affiliate marketing.
Trust is essential to affiliate marketing. We have seen websites that are nothing more than paid links and adverts and business blogs with articles that are just advertisements for businesses.
Finding the ideal partner and ensuring your content will engage readers and persuade them to click on merchant links are essential if you want affiliate marketing to succeed as a novice.
What is ShareASale?
With 20 years of expertise in marketing and sales, Shareasale is a well-known affiliate program. Affiliation with the business is free, and reviews are positive. Finding the best match for your website is simple because affiliates can access more than 4,800 merchants in several marketplaces and specialized sectors.
Why Choose the ShareASale Affiliates Program?
Online evaluations of Shareasale are primarily favorable. Shareasale is a dependable source of online affiliate revenue, even though there is a learning curve associated with the placement and context of affiliate marketing leads.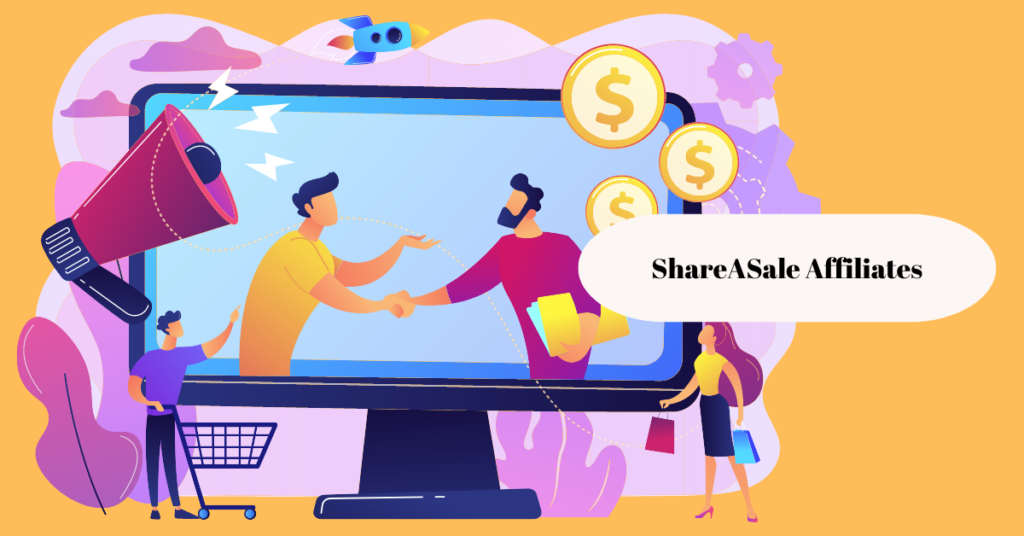 ShareASale Affiliates Program Review
ShareASale is a Chicago, Illinois-based affiliate marketing network established in 2000. Affiliates get commissions from ShareASale depending on sales. You may choose from more than 2,500 programs as an affiliate marketer to get these commissions. ShareASale runs a network of retailers in addition to its affiliate network.
The Merchant
ShareASale shows performance marketing. Performance marketing allows online retailers to grow clientele by bringing in new ones. Merchants may utilize ShareASale's exclusive technology to connect to a vast network of reputable affiliates. Only commissions from sales are paid to ShareASale affiliates, and the individual merchants decide the compensation structure. The merchant will not pay a commission if the ShareASale program does not result in a direct sale.
The Affiliate
On ShareASale, over 2,500 merchants sell various goods and services. You choose any ShareASale merchant and try to drive sales to the merchant's website as an affiliate. The merchant will subsequently pay the affiliate a commission when a sale is made due to an affiliate's recommendation. As an affiliate, you choose the exact shops you want to promote and the methods you want to use to do so. Additionally, affiliates can access the ShareASale website to log in and see real-time analytics and revenue.
Starting Off
You may register for ShareASale's affiliate or merchant programs on the business website to get started. A merchant or affiliate welcome packet will be sent to you by ShareASale once you complete the application. ShareASale will provide affiliates HTML referral links and banners for any listed merchants. As an affiliate, you'll add HTML links and banners to your websites so that you may begin receiving commissions for referrals. There are no charges linked to joining the affiliate program at ShareASale. ShareASale will have your company added to the system within two business days as a merchant. So, it will be able to create links and banners for affiliates. The commission system merchants will use to compensate the affiliates must also be chosen. To join the merchant program, ShareASale costs a $550 startup fee.
What Are the Benefits of Joining the ShareASale Affiliates Program?
Several advantages are available to merchants and affiliates via ShareASale. These advantages include merchant and affiliate quality control and real-time monitoring. Additionally, ShareASale ensures that earned commissions are paid on schedule. ShareASale also gives users the option to deep link. This implies that as an affiliate, you may redirect potential customers directly to a registration page on the retailer's website rather than the main page. Depp linking makes it more likely that you will be paid for your recommendations.
Payout
Here are some "need-to-know" informational items and frequently asked questions about ShareASale's monthly payout.
When is Payday?
Each month, on the 20th, ShareASale pays our affiliates for the transactions from the prior month (unless the Merchant has an extended lock date). Payments are issued the next business day if the 20th occurs on a holiday in the United States or a weekend.
Situation 1: August 20, 2016, a Saturday, falls on a payday. The payday for August is thus on August 22, a Monday.
Scenario #2: The whole commissions earned in June 2016 would be paid out on July 20.
What is a Lock Date?
The Merchant selects and determines the lock date. From the perspective of the Merchant, this offers them the opportunity to verify and confirm each transaction, cancel any refunds, or make any required modifications. But after the lock date, the transaction is finished! The system will then pay the payment to the affiliate, and the merchant will then be unable to change or cancel the transaction.
How Can I Get Paid?
An affiliate may be compensated in 4 distinct ways on ShareASale.
Postal Service-delivered physical check
FedEx-delivered physical check (additional fees required)
Online Transfer
Payoneer
What Time Schedule Do Payments Take to Reach Me?
The following list of payment types' typical processing times:
Check Via mail (USA): 1 week
Check via mail (Internationally): 1-4 weeks
Direct Deposit (USA): 2-3 business days
Direct Deposit (UK): 5-6 business days
Direct Deposit (IN): 5-7 business days
Direct Deposit (CA): 2-3 Business Days
Direct Deposit (AU): 3-4 Business Days
Direct Deposit (MX): 3-4 Business Days
Direct Deposit (NZ): 3-4 Business Days
Direct Deposit (CH): 3-4 Business Days
Direct Deposit (EU): 5-6 Business Days
Why Didn't I Get paid?
If you didn't get a payment, you should look through the following:
Reading Subjects in the Help Center How will I find out if a payment was sent? To ensure you weren't previously compensated. If a payment transaction is present, see the help subject under "Payment hasn't Arrived."
Make sure your account is in order. Under the Edit Your Account page. It may be increased from the default value of $50. Check to see whether the amount in your account at the end of last month was more than the minimum.
*Special Note: Keep in mind that the "Your Current Balance" section contains transactions from this month that aren't yet due for settlement. Subtract the whole month's worth of transactions from your current balance. Before you get a payment, this amount must be more than your minimum.
The transactions from this month that are not yet eligible for payment are included in the "Your Current Balance" section, so keep that in mind. Subtract the whole month's worth of transactions from your current balance. Before you get a payment, this amount must be more than your minimum.
Where Can I Find Out How Much I Will Be Paid with ShareASale Affiliates?
You may get a list of all your transactions by heading to your Activity Details Report, sorting the lock date by month, and then manually adding all the commissions from the prior month or using Excel to obtain the total.
HOW CAN I TELL IF A PAYMENT HAS BEEN SENT?
You may check on your previous payments in several different ways.
Your Activity Details Report contains a list of all payments. To discover them quickly, limit your search to transactions from Merchant 47 – ShareASale.com. Activity Details Report containing ShareASale.com transactions
solely.
You'll also see that your balance drops when a payment is made.
The Prior Revenue Report may also show all past payment data. It won't show recent payment information since this report is only updated once per month.
What Should I Do if the Wrong Person Is Identified on My Check?
Make checks payable to the "Organization" specified on the page where you may edit your account. Have you got a check that you cannot cash? Mail it back to us and ask for a new copy.
Where Can I Find a Replacement Check?
Our cancellation policy lasts 90 days. If a check is canceled within 90 days of the day it was issued, there is a $35 cancellation charge unless it is sent back to ShareASale.
We may reissue your check at no fee if you wait until after 90 days. Before requesting a new check, always verify that your address is current in your ShareASale account.
How Do I Set It Up, and What Is Payoneer?
An Affiliate's commissions each month are sent to a Payoneer prepaid Mastercard. Payoneer is a service that enables affiliates to receive money online in nations where the direct deposit is not permitted.
How to Configure Payoneer
Access Payoneer's website.
Click "My Account," then sign in.
Click on "Services."
Choose "US Payment Service"
Enter the Payoneer US payment service's login information into ShareASale admin and request a direct deposit.
You may enter your direct deposit details after receiving your Payoneer account information.
Direct Deposit Reissue: How Does it Occur?
We will let you know within your ShareASale account if a direct transfer is unsuccessful. Your "To-Do List" will show the message under "Needs Attention." You will have the choice to amend your direct deposit details and then ask for the freshly created direct deposit to be delivered. Very simple!
Deposite
How Are Payments Made?
We're all here to earn money. Let's face it! Affiliates put a lot of effort into promoting the links of their merchant partners to readers to get them to click and purchase. Merchants are working around the clock to ensure that their affiliates get compensated for their efforts! As long as someone is in charge of the money processing, it's a lovely model, and everyone benefits.
ShareASale steps in to help with that. We handle the payment processing and guarantee that payments are delivered on schedule. Let's now examine this from the perspectives of both affiliates and merchants.
Merchants
Merchants must deposit a minimum of $125 to begin financing their accounts at account setup, for a total of $750. This includes a $625 startup charge. In addition to the ShareASale transaction charge, the deposit is utilized to pay affiliate commissions. Through the Deposit Center, merchants may always add more money.
When an affiliate refers a completed transaction to a merchant, the retailer pays the affiliate a commission (there are additional events that result in payments, but we'll discuss manual commissions/bonuses in another topic). Subsequently, the predetermined amount will be subtracted from the merchant's account balance (commission plus the ShareASale transaction fee). On the 20th of the following month, affiliate-generated transactions will be frozen and paid out.
If your account does not earn a minimum of $50 in fees to ShareASale in a given month, the difference will be charged to your account. A grace time is provided; details are below.
0–30 Days – No Minimum Fees
30+ Days – Maximum $35 Monthly
To add extra money to your Merchant account, use the "Deposit Center" link in the new interface under the "My Account" page.
Review the instance
of a sale a merchant would see. The commission cost for ShareASale is 20% of the affiliate compensation.
The merchant's starting balance is $125, and the sale results in a $10 commission going to an affiliate. Those 10 dollars will reduce the initial merchant balance.
The transaction fee of 20% charged by ShareASale is calculated based on the affiliate payment; in this case, it works out to $2 (20% of a $10 commission). In this scenario, the merchant would get a total compensation of $12 and still owe $113.
We recently integrated SMS notifications for specific account activities. As a result, Merchants may now choose to get SMS alerts when their account balance hits a predetermined level for notice to contribute funds.
(You Will Want to Do This!) Auto-Deposit
Setting up Auto-Deposit is strongly advised for our businesses. Is auto-deposit an option? If not, manual deposit payments may be made using a credit card, an eCheck, or PayPal.
Accounts wanting to deposit $10,000 or more into an account can pay through Wire, ACH, or Company Check. Visit our Help Center to start a Help Ticket and find out what other choices are available.
Why Do We Suggest This?
When evaluating potential programs to join, affiliates take a report into account. It's called the "Uptime History Report," and it contains a timeline of time stamps indicating whether a particular merchant is now "Low Funds," "Temporarily Offline," or "Online."
Low Funds = $50 is the trigger amount for the ShareASale Network's Low Funds feature. The account is marked as "Low Funds" if the balance on a merchant account falls to $50 or less.
Temporarily Offline = The application is temporarily shut down when a merchant account's balance falls to zero (zero dollars), pending the replenishment of money. Affiliate links are inoperable while an account is inactive.
Online = When money is added to a merchant's offline or low funds account, the program is designated as online.
Affiliates won't be as inclined to sign up with a program with a history of being regularly down since doing so disables the functioning links on their website and disrupts the user experience for their visitors. By automatically deducting funds from a credit card that is on file, auto-deposit is set up to avoid an offline state.
Affiliates
Once accepted into the ShareASale network, hundreds of merchant programs will be waiting for you to join them as a partner. It is always free to sign up to become an affiliate with ShareASale. The sign-up procedure is simple and fast.
You may utilize their creatives on your website or blog after deciding which merchants to work with in partnership. You will be compensated for any purchases that originate from these links, and valuable reports like your Activity Details will allow you to see all the data.
How Do I Become Paid?
The minimum payment amount is $50, and affiliates may opt to be paid via check. The payment trigger amount may be increased if desired. Within their edit settings page, at the center, is where you may do this.
In addition, ACH direct deposit and wire transfers are options for paying affiliates. The form contained herein Payment Settings must be completed by the affiliate if they decide to have payments sent by direct deposit. They will also require detailed data from their checks or bank to fill out this form. Additionally, there is a $29 cost for wire transfers even though the direct deposit is fee-free.
When Will I Get Paid?
Payments come on the 20th monthly for commissions from the previous month (unless the merchant has opted for an extended lock date). For instance, the 20th of February is the payout date for commissions that an affiliate earned in January. The following Monday is when payments are made if the 20th occurs on the weekend.
Affiliates are welcome to contact our support staff with any payment-related questions; they would be pleased to assist.
How Do I Find My Money?
In the Rejected Payment Report, affiliates may quickly determine why a payment didn't appear.
The affiliate will often not get a payment because one number is off-balance or another error caused it. This report makes it simple to check the status of a payment and discover whether it has been denied.
Our cancellation policy is 90 days long. Checks canceled within 90 days after the issuance incur a $35 cancellation charge unless they are returned to ShareASale.
We may give a free check reissue to an affiliate if they wait until after 90 days. The address of an affiliate's ShareASale account should always be current.
The Help Center guides merchants and affiliates who have payment inquiries. For any inquiries, they may also get in touch with our customer service team.
Revenue
In 2020, ShareASale was expected to produce 182 million purchases, according to its website, which presently handles over 16,550 merchant programs. Due to this, its customers were able to earn an astounding $14 billion in income.
ShareASale incurs a one-time $550 network access cost:
You also need to put $100 into your account, which is required. They may pay the affiliate sales and any other eligible lead you get because of your ShareASale program for using this deposit.
ShareASale will charge you a transaction fee for every eligible sale that it results in. The commission you provide to your affiliate partner in exchange for this charge is equivalent to 20% of that sum.
A minimum $35 transaction fee is charged each month. It's also important to note. ShareASale will add the amount needed to raise your monthly fees to $35 if you don't produce this minimum in any given month.
Competition
MyLead, Affilorama, and Skimlinks are some of the leading rivals of ShareASale. You can also locate other ShareASale rivals from the list of rivals below.
ShareASale: When to Use
ShareASale is accessible to:
To link merchants with a vast network of affiliate partners, expand customer reach, and provide another source of income.
Agencies to assist them in providing customers with cutting-edge technology and reliable data reporting.
To create successful alliances via affiliates
ShareASale's Competitor #1: MyLead
Premium product
Vast population
easy-to-use
A complete platform for making money online, MyLead is a worldwide affiliate network.
A Time to Use MyLead
This platform is accessible to everyone, including bloggers, website owners, social media influencers, and regular people.
Affilorama: ShareASale's Second Competitor
Version Free
Easy-To-Use
Easy Ui
You may use affiliate marketing to make money online with Affilorama's training and tools. You may learn how to make money online free with the aid of Affilorama.
Affilorama: When to Use
When you want to earn money online as an affiliate, you utilize Affilorama.
To do it right the first time and save time and money, Affilorama offers software tools and education for affiliate marketers.
ShareASale's Competitor #3: Skimlinks
Skimlinks enable publishers to expand commerce content into a significant source of income for their companies and establish connections with top merchants.
Skimlinks: When to Use Them
Bloggers and media outlets may easily connect with thousands of businesses and diversify their money sources using Skimlinks.
Competition #4 for Shareasale is Checkaflip.
Free forever.
easy-to-use
Straightforward fix
Simple UI
An eBay and Amazon product value monitoring application called CheckAFlip enables you to increase sales and profits.
USE OF CHECKAFlip
All users may utilize CheckAFlip to identify the product's most correct pricing on eBay and Amazon, then make a sale per that price.
FlexOffers: ShareASale's #5 Rival
Specific to Ecosystem
Easy-To-Use
Productivity
FlexOffers is an affiliate marketing network that offers complete solutions to publishers and advertisers via various tactical choices. Furthermore, FlexOffers combines a variety of marketing channels, data distribution methods, and cutting-edge payment choices to establish successful business relationships.
WHEN TO USE THEM
FlexOffers is a multi-award-winning affiliate marketing platform offering complete services to publishers and advertisers.
SIXTH SHAREASALE ENTRANT: ASSORTLIST
Expensive offering
easy-to-use
Straightforward fix
Simple UI
You may submit and see advertisements from around the globe on the premium advertising website AssortList.
Assortlist: When to Use
AssortList is a terrific resource for anybody seeking events, employment, etc., and organizers and companies trying to attract customers.
MaxBounty, Competitor #7 in the Shareasale
Specific to Ecosystem
Easy-To-Use
Productivity
On the other hand, MaxBounty is a top-tier performance-based affiliate network that focuses on increasing the return on investment for both affiliates and advertisers.
When to Use
As an affiliate marketing platform, MaxBounty may be utilized by advertisers and affiliates to find specialized answers to their marketing challenges.
FAQS
Is ShareASale Free for Affiliates?
Joining ShareASale as an affiliate is always free, and the registration procedure is simple and fast. Upon approval to the network, hundreds of merchant programs will be waiting for you to become a partner.
How Do I Enrich My Affiliation With ShareASale?
How to Create an Affiliate Account and Add a Banner Ad
Visit ShareASale.com and click the Affiliate Sign Up button.
Create your username, password, and residence country in step two.
Provide a brief description of your main website and any related questions.
5b. …
Click the verification link.
After you've checked a couple more items, finalize!
Is the ShareASale Affiliates Program Good?
A trustworthy affiliate marketing program with significant profit potential is Shareasale.
How Can I Begin Using ShareASale for Affiliate Marketing?
How to Become an Effective ShareASale Affiliate: Four Steps
Step 1: Write a captivating bio on your profile page.
Find advertisers and goods/services to market in step two.
Step 3: Start marketing the things you've selected.
Utilize the ShareASale Affiliate marketing tools to streamline your efforts in Step 4.
Is ShareASale Paying for Clicks?
Pay-per-sale, pay-per-lead, and pay-per-click programs are all available via the affiliate network ShareASale. You must make a minimum of $50 in revenue to be paid by ShareASale.
Affiliate Marketing With ShareASale
A trustworthy affiliate marketing program with considerable profit potential is Shareasale.
A strategy is necessary to convert this potential into revenue. Get your WordPress website up and operating as soon as possible to get the most out of Shareasale. Choose a great domain name, provide high-quality content, and draw regular traffic. Afterward, join Shareasale and choose affiliate marketing links corresponding to site visitors' preferences.
Last but not least, integrate these connections into your content as organically as you can. You're best served organically including Shareasale links into your content, even if the odd banner or direct product review might aid conversion. They won't remain long if your guests believe they are only there to make a deal.
With Shareasale, you may increase your website's revenue. Discover your topic, create an affiliate account, and link website visitors with helpful information.